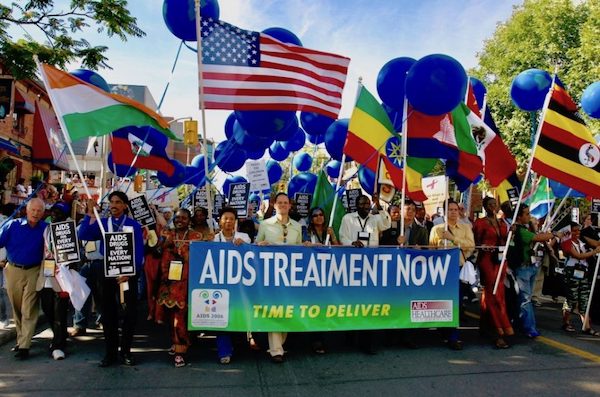 During my research for Righteous Rebels: AIDS Healthcare Foundation's Crusade to Change the World, I often met with the inimitable Dr. Esther Schumann. She was widely considered one of the most effective doctors at AHF, and the following excerpt shows why — she never gave up on her patients.
I talked with Schumann on three different occasions over the course of 2014 at her office in downtown Fort Lauderdale. She was fifty-five years old, opinionated, straight-talking, witty, and fun. Schumann, who was born in Lippstadt, Germany, also had a special talent for handling AHF's most challenging patients.
These were people who had learning disabilities or substance abuse issues or mental health issues or a mix of the three. It's difficult to treat such patients — they don't always take their HIV medications. But with a combination of tough love and compassion, Schumann turned things around.
Below, the doctor shares a harrowing story about one of her newest clients. It was a shocking example of how AIDS still impacts people in the United States.
***************
Before the year ended, I wanted to check up on Dr. Esther Schumann, one of AHF's best doctors, in Fort Lauderdale. We talked one afternoon in her office. Schumann said that since my last visit, she had seen a female African American patient in her early forties who was sick with full-blown AIDS. The woman, who was from Miami-Dade County and near death, was wheeled into the doctor's office by her mother.
"She looked like a skeleton, wrapped up in several blankets and big sweaters."
I asked the doctor what she thought when she first saw the patient.
"Catastrophe," she replied with her German accent. "The mother was very nice, and she was very excited about the visit—and nervous also. She knew something was grossly wrong. They thought it was a kidney issue—because she was told in the past she had a kidney issue. She must have known that she had AIDS. But the mother looked us up, and that's how they found us."
Schumann continued, "I was told she hadn't been out of bed since February. Then I wanted to examine her, and I asked the mother to help me. She couldn't stand. There was no muscle at all. So I asked the mother whether she could help me to put her on the table, and we hoisted her at the knees. She was so light that she nearly flew in the air—because there was no weight. It was awful, and we were both shocked.
"We examined her, and she couldn't really participate. I laid her down in the position there, and it was terrible. Now she was probably going to die. If someone like that's wheeled into the ER, they don't really do anything about it. She would have maybe gotten an IV, but nothing drastic, and she probably would have been put in hospice and people would say that's it.
"The mother refused that day to go to the hospital, and I said that perhaps we could turn it around, and we could give her medicine. But she had a mouth full of rashes and wasn't swallowing well enough—she wasn't really talking. She was making gestures that her mouth hurt."
Schumann started the woman on small pills and liquid drugs, in very small doses, and hoped to take her blood for lab tests. But the doctor couldn't find a vein.
"She was about 5' 8" and 49 pounds," Schumann recalled. "That is nothing. She was a heap of bones. She was barely living."
Schumann then told the mother and patient that they should come back in a week. They still refused to go to the hospital, despite the warning from Schumann that the daughter may die. The woman immediately started taking the medicine, but when she returned to Schumann, the patient had lost more weight, her kidney functions had shut down, and she was about three days from death.
Schumann contacted another HIV specialist outside of AHF and they worked together to figure out the best way to proceed with the patient. The woman agreed to go to a local hospital, where she got nutrition and fluid intravenously—her front teeth had fallen out by this point. The patient also continued to take her antiretroviral therapy.
The woman did not, in fact, die—tremendous measures saved her. She lived at a nursing home for some time, and a month after first visiting Schumann, the woman's viral load was undetectable. She was also gaining weight and started physical therapy. She received dental treatment from Dr. Debbie Davis, a well-respected AHF dentist in Fort Lauderdale.
Schumann was relieved that the woman stayed alive, but she was perplexed that the patient hadn't sought treatment sooner.
"She said she didn't want anybody to know," the doctor told me. "The phrase that these types of people say is that they don't want anybody to know their business. There is still big stigma."
It was a stigma that could be as lethal as AIDS itself.
Read more about Dr. Schumann and AHF in Righteous Rebels: AIDS Healthcare Foundation's Crusade to Change the World.