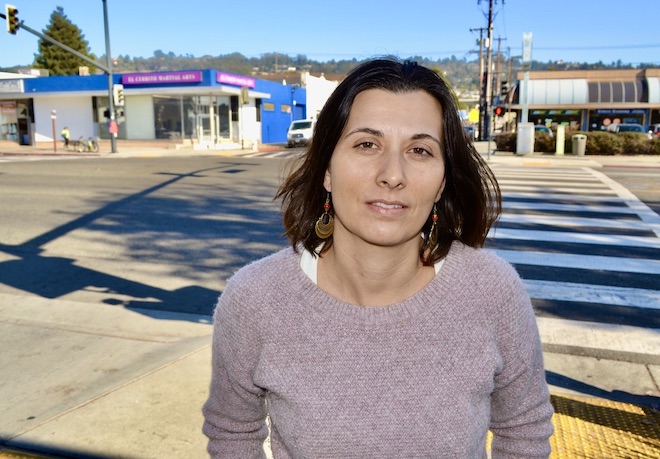 As Californians struggle with a worsening housing affordability crisis, I decided to profile the crucial work of housing justice activists fighting for stronger tenant protections. All of them, I found out, were engaged in underdog battles against influential lobbyists, indifferent politicians, and politically connected landlords and developers.
"They send people into any locality when they get a whiff of rent control," said El Cerrito activist Karina Ioffee (pictured above), referring to the California Apartment Association, the landlord lobbying group. "They're an organization that has massive resources. They're a force to be reckoned with."
I traveled to Northern California and San Diego, meeting with activists Jessica Aguallo-Hurtado and Jesse Hurtado, Karina Ioffee, and Rafael Bautista. Their important stories, which provide insight into the street-level battles activists must fight every day, have been largely untold by the mainstream media. I sought to correct that through my advocacy journalism work at Housing Is A Human Right.
For the profile "Concord Housing Activists Confront Political Apathy, and Empower Renters," I wrote:
As Brown Berets, Jessica Aguallo-Hurtado and her husband, Jesse Hurtado, travel throughout California to help the underserved in the Latino community. They tackle police brutality, immigration reform, education, and other important issues. Recently, they added housing justice to their activism. What was happening in their hometown of Concord, a middle- and working-class city that's 22 miles northeast of Oakland, could no longer go unattended.
"You have family after family saying they had bugs, living in places that were uninhabitable." Jessica told me one Saturday afternoon. "And if they said anything, they were worried they'd get a huge rent increase or evicted."
For "In San Diego, Vulnerable Tenants Are Just Numbers on a Spreadsheet," I reported about Rafael Bautista's struggles:
San Diego Tenants United has been calling on City Hall to institute rent control for years, but the politicians refused to act. So Bautista and his crew are now looking to institute rent control through a citywide ballot measure.
"We have to protect the most vulnerable," he says. "We see who's being targeted. It's lower-income people."
The signature gathering effort, never an easy task for under-funded activists to successfully pull off, will probably start in January.
"It will be very difficult," says Bautista. "But from what we've seen, people flock to the rent control initiative because it's so desperately needed."
For too long, Bautista says, the system has been rigged in favor of developers and landlords, with working-class residents suffering the consequences.
"To them," he says, "we're just numbers on the spreadsheet."
For "Battling the California Apartment Association, El Cerrito Activists Fight For What's Right," I wrote about Karina Ioffe's underdog work:
But just as sky-high rents are all too common in California cities, so is the lack of political will by elected leaders to do anything about it. Whether it's Sacramento, San Diego, or El Cerrito.
"The sentiment one gets when going to a City Council meeting," said Ioffee, "is that they're completely out of touch with what renters are going through."
So earlier this year, Ioffee and her fellow activists pushed for a number of tenant protections, including just cause eviction — a landlord must have a reason to kick someone out of his or her home. By May, the El Cerrito City Council approved a watered-down version of what housing activists wanted. It only applied to around 15 percent of the city's rental units, Ioffee said, but it was something.
The California Apartment Association, though, believed even that was too much, and started a signature drive to repeal it.
"They engaged in a total misinformation campaign."
Ioffee said that signature gatherers misleadingly told residents that they should sign the petition if they wanted rent control. Others said that if residents didn't want criminals to move into El Cerrito, they should give their signatures. The CAA is known for such underhanded tactics.
While these activists battled very powerful forces, it was inspiring to see their endless determination to create righteous change and keep fighting for what's right.