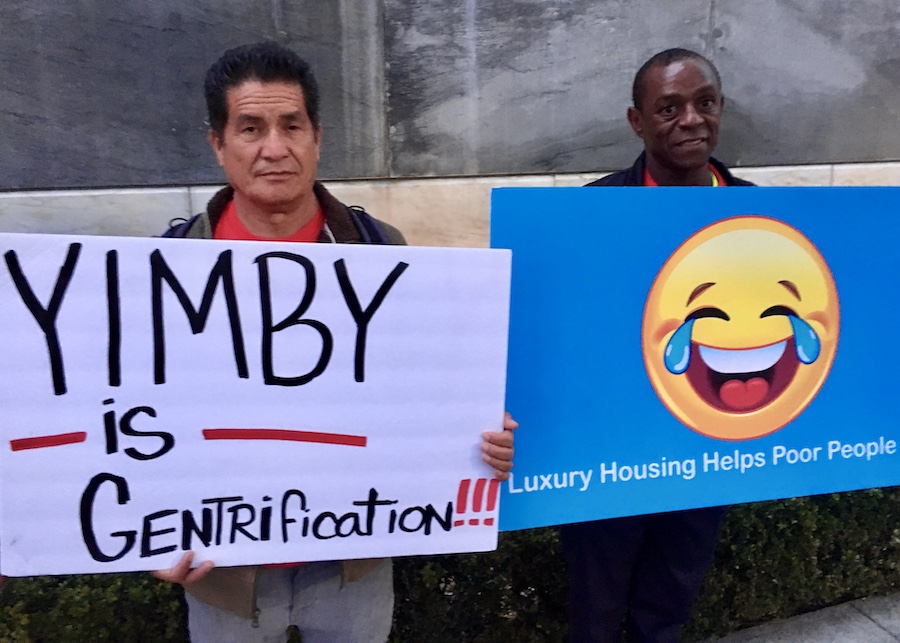 For Housing Is A Human Right, I looked into the housing and land-use policies pushed by Big Tech, California YIMBY, and State Sen. Scott Wiener. The investigation lays out a largely untold story about the behind-the-scenes relationships between the powerful trio and their dangerous pro-gentrification agenda. Here's an excerpt.
---
Part I: Big Tech is the Mothership
On the steps outside San Francisco City Hall, on a sunny, blue-sky Tuesday in April of 2018, a worried group of residents and grassroots activists — many of whom were people of color — held a press conference to denounce a statewide, land-use deregulation bill, SB 827. California State Sen. Scott Wiener, who had long been financed by the real estate industry, introduced the controversial legislation. More than 125 tech executives and a fledgling organization called California YIMBY enthusiastically backed it. The residents and activists, however, believed SB 827 would be catastrophic, adding jet fuel to a gentrification crisis that was already devastating San Francisco's working-class communities, especially those of color.
"We'll keep fighting," Charles Dupigny, the African American co-director of Affordable Divis, told the crowd. "We'll keep moving forward. We plan to keep fighting this bill, like many times in the past in San Francisco."
But as Dupigny talked, a young, mostly white group of self-identified "YIMBYs" brashly inserted themselves into the press conference, refusing to listen. In fact, they were trying to silence Dupigny, yelling at him, "Read the bill! Read the bill! Read the bill!" It was a rude, somewhat shocking move, but not entirely surprising.
In California, the so-called YIMBY movement (YIMBY stands for "Yes In My Back Yard," a wily twist on NIMBY or "Not In My Back Yard") have made headlines by forcefully advocating for widespread land-use deregulation that, in their eyes, would solve the state's devastating housing affordability crisis.
The YIMBY scenario plays out this way: deregulate as much as possible, an apartment construction boom will follow, and sky-high rents will stabilize and take a downturn since more units have come onto the market. It's the old, possibly outdated, supply-and-demand argument.
Housing justice activists rightly counter that developers build almost exclusively luxury housing, which not only triggers gentrification in middle- and working-class neighborhoods, but also does nothing to directly address California's housing affordability crisis.
Zillow, the real estate site, found, in 2016, that in San Francisco, Los Angeles, and other major cities, "very high demand at the low end of the market is being met with more supply at the high end, an imbalance that will only contribute to growing affordability concerns for all renters."
Zillow Chief Economist Dr. Svenja Gudell added: "Apartment construction at the low end needs to start ramping up, and soon, in order to see real improvement."
YIMBYs, on the whole, don't want to hear that. In fact, YIMBYs routinely show a visceral dislike for anyone who challenges their hard-core belief system — whether it's using Twitter to pile on critics or immediately shouting them down in public. Now, on the steps of San Francisco City Hall, that hostility was on frightful display.
After Dupigny spoke, the YIMBYs continued their belligerence, carrying out a menacing counter-protest. Things got so out of hand that one resident, a 77-year-old Asian woman, fainted — and was shuttled to a hospital. Sonja Trauss, a contentious, outspoken leader among the YIMBYs, was so fierce that sheriff's deputies moved her away from the crowd.
"Our members were intimidated by YIMBY," Wing Hoo Leung, president of the Chinatown-based Community Tenants Association, told the San Francisco Examiner. "They felt threatened."
Lueng added, "I think the YIMBY have no heart."
The showdown at San Francisco City Hall was not an aberration, but another glaring example of YIMBYs' disrespectful militancy.
"It's been absolutely ugly," Bay Area activist Shanti Singh told Shelterforce in 2019, describing her interactions with YIMBYs. "A really nasty three years."
Maria Zamudio, another Bay Area activist, told In These Times, "They're like, 'Just build housing, you stupid brown people! I moved here last week, and I need a place to live!'"
Fernando Marti, co-director of the San Francisco-based Council of Community Housing Organizations, wrote in a Shelterforce column: "But according to the YIMBY leaders, now we equity advocates are the problem too, little different from the NIMBYs, rabid progressives who are too naïve or ideological to understand how the market really works.In this story line, in the name of fighting evictions and displacement, we progressives, we communities of color, we poor people and immigrants, we working-class queers stupidly don't realize that luxury development now will eventually become the affordable housing of the future!"
Despite this appalling track record, the YIMBYs are, more times than not, warmly embraced by the mainstream media — only months after the fracas in San Francisco, for example, Bloomberg Opinion columnist and economics professor Tyler Cowen gushed that the "YIMBY movement is definitely on to something" and Bill Boyarsky, the former city editor of the Los Angeles Times, wrote a glowing op-ed in support of YIMBY. Politicians, such as State Sen. Scott Wiener, a moderate Democrat who represents San Francisco, and San Diego Mayor Kevin Faulconer, proudly align themselves with YIMBYs. And tech executives, such as Stripe co-founders Patrick and John Collison, excitedly back YIMBYs. All of which begs serious questions.
Do politicians, academics, the media, and tech leaders care about the valid concerns of housing justice activists? Is the establishment even listening to those activists? And exactly who's behind YIMBY's rise in California? Where many Democratic politicians, who control the state legislature, sound as if they grab their talking points straight from a YIMBY press release.
On the face of it, one may think that developers, who despise land-use regulations, have been the monied force behind YIMBY. But, in California, that's not really the case, although a powerful industry, with global clout, is moving and shaking things behind the scenes. That minted behemoth? Big Tech.
Over the past four years, Big Tech has quietly, steadily built a power base to push through land-use and housing policies that benefit the tech industry above anyone else. SB 827, which was stopped in 2018, was legislation that Big Tech desperately wanted to pass. SB 50, the controversial follow up to SB 827 that's still alive in the state legislature, is another Big Tech-backed bill.
The tech industry's key agents are California YIMBY, the statewide lobbying group founded and funded by tech executives, and State Sen. Scott Wiener, who, since 2015, has socked away a staggering $554,235 in campaign cash from Big Tech, including sizable contributions from Facebook, Google, and Amazon. California YIMBY and Wiener worked closely for SB 827, and they've teamed up again for SB 50. California YIMBY and Wiener are inextricably linked — and Big Tech is the mothership.
In a revealing 2017 article, Pantheon CEO Zack Rosen, who co-founded California YIMBY, explained Big Tech's jump into land-use and housing policy. He told The Information, a news site for tech insiders, that a "combination of over-regulation by the state and the tech industry's success has created the [housing] problem. I feel there's a real onus on us to lead."
But with millions of middle- and working-class Californians struggling to pay exorbitant rents, Big Tech's need to lead was hardly altruistic.
What pushed tech executives into action, Rosen candidly told The Information, was that the housing affordability crisis had become an "existential threat" to the growth of the tech industry.
In other words, California YIMBY, fully staffed with organizing directors, assistants, a lobbyist, and policy wonks, and State Sen. Scott Wiener, the most aggressive California legislator of YIMBY policies, are carrying out an orchestrated defense, and expansion, of Big Tech's gigantic profits.
---