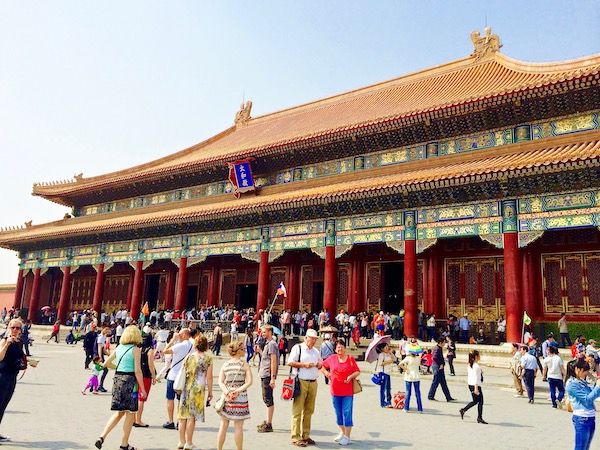 In the middle of Dongdan Park in Beijing, China, next to a volleyball court, there is a yellow demarcation line that gay men rarely cross. A few miles away, at Mundanyuan Park, deceased gay men have been buried alongside a condom-littered, bush-shrouded dirt trail that's used as a secret cruising spot for sex. What takes place at both parks shows the homophobia that still exists in China — and continues to fuel the HIV/AIDS crisis in many countries.
In 2014, I traveled to 14 countries on five continents to work on Righteous Rebels: AIDS Healthcare Foundation's Crusade to Change the World, which reveals the untold story about the world's largest HIV/AIDS medical-care provider. Over the course of my journeys, I spoke with dozens of AHF clients and staff members, getting a street-level understanding of the global AIDS epidemic, which still takes the lives of 1.1 million people annually.
From Uganda to China to the American South, I constantly heard about a major problem: discriminatory attitudes towards the LGBT community and people living with HIV/AIDS made the work of HIV prevention and treatment extremely difficult, and seriously impeded progress in the global fight against HIV/AIDS.
Such non-accepting beliefs held by political leaders and citizens result in a long list of negative impacts, which include:
Governments don't take immediate, decisive action to treat and prevent HIV and AIDS, which exacerbates an AIDS epidemic;
Governments fail to properly fund HIV/AIDS programs;
People — gay and straight — who fear discrimination and being stigmatized don't seek HIV testing and treatment, which continues the spread of HIV and AIDS and can kill an infected person.
Discrimination, in other words, can literally be lethal, and that particularly hit home when I visited Beijing.
In April 2014, I went to Dongdan and Mundanyuan parks with AHF's China program director Bao Yugang, a cheerful, dedicated man who once worked for the Bill & Melinda Gates Foundation. While the Chinese government was slowly becoming more accepting of homosexuality, HIV infection rates were increasing among men who have sex with men (MSM) — injection drug users and MSM were the two groups most impacted by HIV in China.
"At the beginning," Yugang told me, "HIV spread among the injection drug users. Then it spread to the sex workers, and then it went to the MSMs. And it is the most difficult work — how to stop the spread of HIV among MSM."
Yugang first brought me to Dongdan Park, a well-known gathering place for Chinese gay men, particularly lower-income men who don't have the money to go to gay nightclubs.
"It's like the Great Wall," said Yugang, who's not gay. "If you have not visited Dongdan Park, you are not a true gay."
As we walked through the park, Yugang pointed to a long, yellow line next to a volleyball court, where two groups of young men played against each other. Yugang told me that the gay men always stayed to the right of the yellow line while other park-goers kept to the left.
"You're kidding me," I said.
Yugang promised he wasn't, and I stared at the yellow line for a few minutes. I was astonished. No one from either side of the park went near it. It was real-life evidence of the non-acceptance that Chinese gay men still faced.
Later, Yugang took me to Mundanyuan Park, where we walked up a grassy hill and onto a dirt trail that was hidden by bushes and trees. The path was littered with condoms. I was told that it was a cruising spot, where gay men could find each other and have sex. It was as if I was transported to the gay-hostile times of 1950s and 1960s America, when gay men feared life-altering discrimination and met in underground bars and isolated areas at public parks.
Then I noticed two mounds of dirt with flowers on top of them alongside the trail. I asked Yugang what they were. He talked with a local AIDS activist who had joined us, and then Yugang turned back to me. He said they were graves.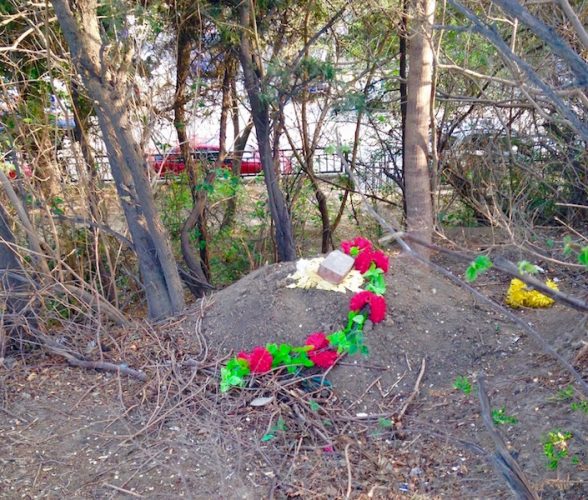 I stood frozen for a moment, unsure if something got lost in the translation. I asked again. Yugang nodded and said I heard correctly — they were graves, probably for gay men who were disowned by their families and wanted to be buried near their friends. I was shocked.
Yugang had told me earlier that the Chinese government wanted to address the HIV situation and not let it spiral out of control. But, the government was still squeamish about homosexuality, which sometimes caused a timid, non-urgent response. Now with the yellow demarcation line and hidden graves, I understood why HIV prevention was so difficult in China — and why HIV infections among gay men were only rising.
Read "Righteous Rebels: AIDS Healthcare Foundation's Crusade to Change the World" and learn more about AHF and the global AIDS crisis.