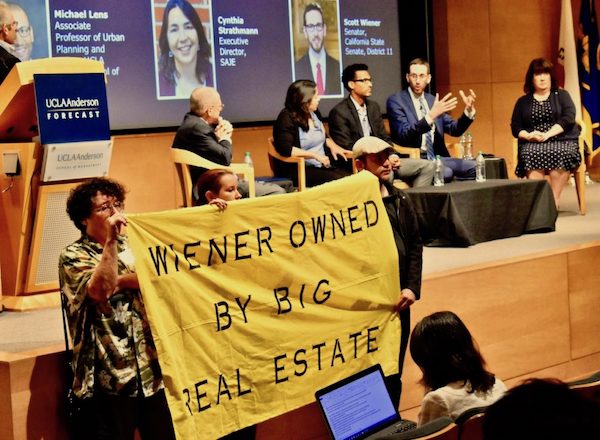 For my advocacy journalism work for Housing Is A Human Right, I routinely delve into the backroom politics that fuel gentrification and housing affordability crises in California. For two special reports, I specifically examined the housing policy records of Los Angeles Mayor Eric Garcetti and California State Sen. Scott Wiener. Both are widely considered to be Corporate Democrats, who push agendas that benefit the real estate industry, but spark gentrification and displacement in middle- and working-class neighborhoods.
"The Garcetti-fication of Los Angeles: A Gentrification Cautionary Tale" investigates Garcetti's long track record of advancing harmful land-use policies that ultimately triggered a devastating gentrification crisis in Los Angeles. It's a must-read not only for Angelenos, but it's also an important cautionary tale for the nation.
From the special report: "During Garcetti's first mayoral term, glass-and-steel luxury-housing towers and gigantic, market-rate apartment complexes started to pop up all over L.A.—and developers and real estate investors, who had contributed millions in campaign cash to Garcetti and City Council members over the years, were raking in billions. By 2018, L.A.-area renters shelled out a staggering $40.4 billion to keep roofs over their heads. Curbed L.A., a real estate site, noted, "By comparison, that's more than 423 of the companies on the most recent Fortune 500 list earned in yearly revenue.
"Garcetti's "build, baby, build" agenda was eagerly embraced by City Council President Herb Wesson, Councilman Huizar, and nearly all of the other council members. But it wasn't executed without devastating consequences. The mayor didn't use his inauguration to go into the disastrous details, but housing justice and tenants rights groups knew what was happening. Even City Hall databases, created by the mayor's "innovation team," showed what was emerging. Middle- and working-class Angelenos, particularly people of color and immigrants, were getting slammed by a citywide gentrification crisis. And with that came soaring rents, record-high evictions, unwanted displacement, and sudden homelessness. People's worlds were collapsing—and a humanitarian crisis was unfolding."
"Selling Out California: Scott Wiener's Money Ties to Big Real Estate" examines controversial California State Sen. Scott Wiener, who represents San Francisco. The investigation exposes Wiener's longtime financial backing from the real estate industry, and how that has influenced his policymaking. Like Garcetti, Wiener is engaging in what's known as "government-sanctioned" gentrification.
From the special report: "Largely unreported by the media, Wiener, a one-time San Francisco supervisor, has always relied on campaign contributions from the real estate industry — landlords, developers, real estate attorneys, property management firms, brokers, architects, among others — to get elected and stay in power. That's particularly true for his seat in the California State Senate. In 2016, he hauled in nearly 700 donations from Big Real Estate totaling $574,276, according to state records reviewed by Housing Is A Human Right. That campaign cash helped Wiener squeak by his underdog opponent, Jane Kim. As a result, he's indebted to the real estate industry, and he's been relentlessly pushing housing policies as a state senator, specifically SB 827 and its troubling 2019 reboot, SB 50, that can generate billions for an array of real estate players who are his political patrons. By any measure, Wiener is what The Nation magazine termed a "corporate Democrat.""
Both Housing Is A Human Right investigations are essential reading to better understand the power players and insider politics behind the housing affordability and gentrification crises in California.
(Update: In August 2020, "Garcetti-fication" won the "Best Activism Journalism" award from the Los Angeles Press Club.)